You are hereMaster Planning of Resources
Master Planning of Resources
---
One of the easiest ways to get involved in the home renovations industry is to invest in a franchise opportunity. One can see the scope of this war-induced road to recovery by comparing the public debt incurred during the New Deal with the public debt accumulated during wartime. Garden Irrigation Fittings Online involves sprinkles with sprinkle heads that can be attached to your garden hose from your water system or cong ty visa - https://nhigia.vn/ water source.
Input to SOP:
Statement of projected demand (marketing): this is a sales plan based on the most up to date information available from the market place.
Market Intelligence (marketing): Information about potential external factors that could have an impact on product or service demand from the market place.
Actual Sales & Booked Orders (sales): Updated information from customers regarding existing orders that have been placed.
Management Targets (management): These are performance targets that have been established in areas that are critical to the success of the business.
Indication of capabilities & capacities (manufacturing or purchasing): Information about potential capacity constraints of resources that should be considered over the planning horizon.
Estimation of Financial Resources Required (finance): a plan for the amt of funding reqd. to support the level of demand & supply activity over the course of the planning horizon.
New Product Information (Product development): Information abt. new products or product changes that will be introduced during the period covered by the sales & operations plan.
New Process Information (process Engineering): Information abt. new processes or process changes that will be introduced during the period covered by the sales & operations plan.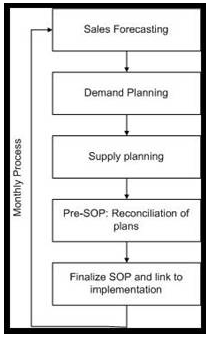 A Sales and Operations Planning process normally includes a series of meetings, finishing with a board level meeting at which, key long term decisions are taken, and the current progress against the Business Plan is reviewed. The review has to cover at least 15 months.
The inputs to the SOP are forecast values and/or requirements from customer order management, sales information system, and controlling.
Companies striving for operational excellence and a competitive advantage realize the impact forecasting has upon the ability of a company to satisfy its customers and to simultaneously manage its resources. Effective forecasting helps management resolve the dilemma of more demanding customer requirements and greater shareholder expectations. To resolve this dilemma, managers are expected to provide better customer service with fewer resources. In this environment, the importance of effective forecasting is elevated.